Apparently, I love challenges because I'm joining yet another one. But again, I'm joining in on a challenge of books I already plan to read.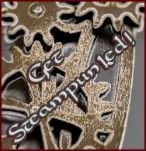 Until the last couple of weeks I'd never heard of steampunk but after reading a bit more about it I think that the Jayne Ann Krentz books that I adore fit into the category. As do many of the books on my TBR page.
I think I'm going to try the smallest challenge level – Geared – because that's only five books and I may find that this isn't what I'm looking for after all.
BA Reading Challenges: Get Steampunked!
© Hott Books | Google+