Chrissie is dissatisfied. Her shell is empty and she knows it needs to be filled.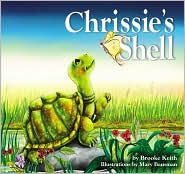 Barnes and Noble
Chrissie roams through the forest watching all of of God's magnificent creatures imagining how wonderful they would be in her shell and trying to decide why God didn't put them in the shell.
My thoughts
Chrissie's thoughts and wonderings are a wonderful way to help a child who is dissatisfied with with them-self or their life. This was a cute book and Chrissie is an interesting character. The illustrations were outstanding. Chrissie's talk with God was sweet and very well done.
Even though I read it on the Nook there were no formatting or illustration issues that frustrated me in the least.
This is not a short and simple book and it didn't keep the attention of all of the children I was reading to – actually only the girls seemed to want to hear all of it. So I'd grab it at the library first and see what your child thinks before rushing out to grab it. For my home – I'm grabbing it!
| | |
| --- | --- |
| Rating: | A |
| Buy or Borrow: | Buy – for young girls |
** Many of the books I review are Advance Review Copies. These books are loaned to me for my review. I am in no way compensated for my time nor am I asked to give anything but my honest review.
© Hott Books | Google+