Free from BN.com this week The 7th Victim, Alan Jacobson eBook.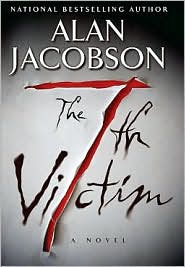 The 7th Victim by Alan Jacobson
from Barnes and Noble:
Synopsis
The Dead Eyes killer lurks in the backyard of the famed FBI Profiling Unit. His brutal murders confound the local task force, despite the gifted profiling skills of Special Agent Karen Vail. But along with Vails insight and expertise comes considerable personal and professional baggage.
Publishers Weekly
In Jacobson's tepid third thriller (after Hunted and False Accusations), FBI profiler Karen Vail is obsessed with bringing to justice the Dead Eyes Killer, who's gruesomely slain several women in Virginia. The action alternates between Karen's attempts to unravel the clues left behind at the crime scenes and glimpses of the Dead Eyes Killer himself as he stalks future victims. A messy divorce and custody battle threaten to distract Karen, as do her tentative relationship with a local detective and disturbing revelations about her family history. The author fails to put a fresh spin on any of the genre's clichés-the serial killer who taunts law enforcement, the FBI agent with an implausible connection to the case, the chaotic crime scene that contains clues only the hero can crack. Though Jacobson's research into the FBI's Behavioral Analysis Unit is evident, he overloads his story with too much information and unbelievable coincidences. 5-city author tour. (Nov.)
Copyright © Reed Business Information, a division of Reed Elsevier Inc. All rights reserved.
© Hott Books | Google+