Sandman Slim with Bonus Content, Richard Kadrey, Free eBook Download @ Barnes & Noble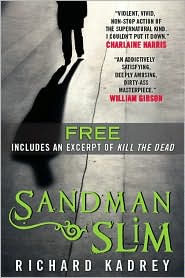 BN.com Synopsis
Supernatural fantasy has a new antihero
Life sucks, and then you die. Or, if you're James Stark, you spend eleven years in Hell as a hitman before finally escaping, only to land back in the hell-on-earth that is Los Angeles.
Now Stark's back, and ready for revenge. And absolution, and maybe even love. But when his first stop saddles him with an abusive talking head, Stark discovers that the road to absolution and revenge is much longer than you'd expect, and both Heaven and Hell have their own ideas for his future.
Resurrection sucks. Saving the world is worse.
Darkly twisted, irreverent, and completely hilarious, Sandman Slim is the breakthrough novel by an acclaimed author.
Publishers Weekly
Kadrey (Butcher Bird) provides biting humor, an over-the-top antihero and a rich stew of metaphoric language in this testosterone- and adrenaline-charged noir thriller. James Stark spent 11 years killing monsters in Lucifer's arena for the entertainment of fallen angels, but now he's back in seedy, magic-riddled L.A., trying to avenge his girlfriend's murder and hunt down Mason Faim, the black magician responsible for getting him sent "downtown." He meets with some initial success, beheading second-rate magician Kasabian (whose head becomes Stark's smart-mouthed sidekick), but he can't find Faim. Instead he encounters Homeland Security agents, a near-psychotic angel and some odd nonhuman, nonangelic beings called the kissi. Darkly atmospheric settings, such as a posh gentlemen's club where angels are tortured in an attempt to bring about Armageddon, bring this violent fantasy into sharp, compelling focus. (Aug.)
Copyright © Reed Business Information, a division of Reed Elsevier Inc. All rights reserved.
© Hott Books | Google+