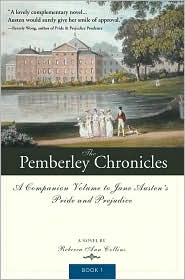 BN.com Synopsis:
Synopsis
The weddings are over, the saga begins.
Biography
Rebecca Ann Collins is the pen name of a lady in Australia who loves Jane Austen's work so much that she has written a series of 10 sequels to Pride and Prejudice, following Austen's beloved characters, introducing new ones and bringing the characters into a new historical era. Thoroughly researched and beautifully written, this series has been extremely successful in Australia with over 80,000 books sold.
From the Publisher
"Those with a taste for the balance and humour of Austen will find a worthy companion volume."-Book News
The weddings are over.
The guests (including millions of readers and viewers) wish the two happy couples health and happiness. As the music swells and the credits roll, two things are certain: Jane and Bingley will want for nothing, while Elizabeth and Darcy are to be the happiest couple in the world!
The couples' personal stories of love, marriage, money, and children are woven together with the threads of social and political history of nineteenth century England. As changes in industry and agriculture affect the people of Pemberley and the neighboring countryside, the Darcys strive to be progressive and forward-looking while upholding beloved traditions.
Rebecca Ann Collins follows them in imagination, observing and chronicling their passage through the landscape of their surroundings, noting how they cope with change, triumph, and tragedy in their lives.
"A lovely complementary novel to Jane Austen's Pride and Prejudice. Austen would surely give her smile of approval."
-Beverly Wong, author of Pride & Prejudice Prudence
The Pemberley Chronicles (Pemberley Chronicles #1), Pemberley Chronicles Series, Rebecca Ann Collins, (9781402234996) NOOKbook (eBook) – Barnes & Noble
© Hott Books | Google+