Free Friday @BNBuzz
This week at BN.com:
Just click on the book cover to be taken directly to the book.
(All the synopsis are from BN.com unless noted.)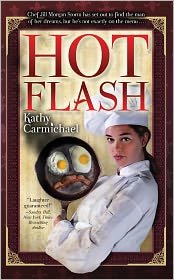 by Kathy Carmichael
Author's Synopsis:
Calm, cool, and premenopausal, single mom and chef Jill Morgan Storm has set out on a scheme to find and wed a traveling salesman. In return, she hopes for one week of marital bliss, three weeks off while her new husband is out of town, and a nice monthly paycheck. Enter Davin Wesley, the opposite of the type of man Jill is searching for-an elementary school teacher who refuses to skedaddle out like a good little husband. Jill isn't sure if she can keep up the protests because his kiss is pure fire and he won't be discouraged. Suffering from hot flash after hot flash, she's unsure if she can say no as her hormones scream yes.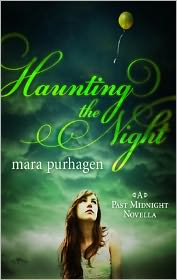 by Mara Purnhagen
Author's Synopsis:
Charlotte Silver has been through hell.
Her mom' s in a coma. She may have caused the death of a young man. And now her friend Avery wants her to tackle going to Prom? Not going to happen, even if she is dying to spend some alone time with her boyfriend, Noah. Instead, Charlotte needs to find some answers to a few nagging questions—why was her family attacked? Will her mother survive? And is there a creature from the Other Side coming for her? Soon enough, Charlotte's search for the truth becomes a race against time. But she may just find the sign she's been looking for all along….
An ebook exclusive Past Midnight series novella.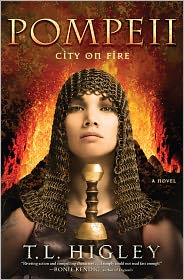 by T. L. Higley
Author's Synopsis:
Pompeii, a city that's many things to many people. For Cato, it's the perfect escape from a failed political career in Rome. A place to start again, become a winemaker. But when a corrupt politician wrongfully jails Cato's sister, he must oust the man from power to save her.
For Ariella, Pompeii is a means to an end. As a young Jew, she escaped the fall of Jerusalem only to endure slavery to a cruel Roman general. She ends up in Pompeii, disguised as a young man and sold into a gladiator troupe. Her anger fuels her to fight well, hoping to win the arena crowds and reveal her gender at the perfect time. Perhaps then she will win true freedom.
But evil creeps through the streets of Pompeii. Political corruption, religious persecution, and family peril threaten to destroy Ariella and Cato, who are thrown together in the battle to survive. As Vesuvius churns with deadly intent, the two must bridge their differences to save the lives of those they love, before the fiery ash buries Pompeii, leaving the city lost to the world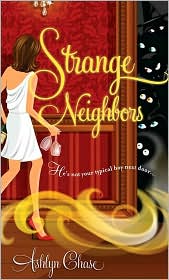 by Ashlyn Chase
Author's Synopsis:
He's looking for peace, quiet, and a little romance…
There's never a dull moment when hunky all-star pitcher and shapeshifter Jason Falco invests in an old Boston brownstone apartment building full of supernatural creatures. But when Merry MacKenzie moves into the ground floor apartment, the playboy pitcher decides he might just be done playing the field…
A girl just wants to have fun…
Sexy Jason seems like the perfect fling, but newly independent nurse Merry's not sure she's ready to trust him with her heart…especially when the tabloids start trumpeting his playboy lifestyle.
Then pandemonium breaks loose and Merry and Jason will never get it together without a little help from the vampire who lives in the basement and the werewolf from upstairs…
by Lisa Cooke
Author's Synopsis:
To save her family from ruin, a Southern belle appeals to a high-stakes gambler to teach her poker, but he's more interested in giving her lessons in love.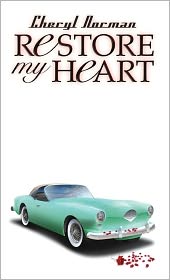 by Cheryl Norman
Author's Synopsis:
Leo Desalvo, a loving husband and father is dead. It appears he committed suicide, but nothing could be further from the truth. And Leo's wife knows it. Although he'd rather grieve in private, Joe Desalvo agrees to help his mother prove a murder occurred, not a suicide. Sally Clay desperately needs her auto restoration business to succeed. Not only is it her livelihood, but she's caring for her father. She hopes the garage will lure him out of his self-imposed exile and back to the world of cars he once loved. But new competition, and the death of her best customer, auto dealer Leo Desalvo, leave her struggling. When Joe approaches Sally to appraise his father's rare, classic sports car, she welcomes the business. There's something fishy about the car, however, and Sally is beginning to suspect shady dealings in Leo's business. Is Joe involved too? When her long-time friend and employee is murdered, Sally realizes it's too late to back out of the investigation she's inadvertently stumbled into. And it seems it's too late for her heart as well.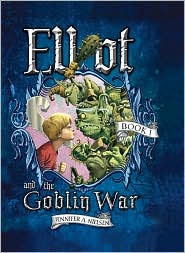 by Jennifer Nielsen , Gideon Kendall
Author's Synopsis:
WARNING!
As of today, there are only 7 CHILDREN who have ever read this book and lived to tell about it. 95 CHILDREN successfully read the first chapter, but upon beginning chapter 2, they started BLABBERING in some language known only as "flibberish." 38 CHILDREN made it halfway through this wretched book before they began SUCKING THEIR THUMBS THROUGH THEIR NOSES.
If you're VERY BRAVE, perhaps you are willing to TAKE YOUR CHANCES. Be sure that you have told your family who gets your favorite toys if you DO NOT SURVIVE this book. Read it now, IF YOU DARE. But don't say you haven't been warned, for this is the story that unfolds the MYSTERIES OF THE UNDERWORLD.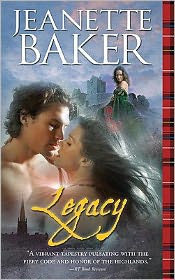 by Jeanette Baker
Author's Synopsis:
In Scotland to claim a castle she has inherited, professor Christina Murray meets the handsome man who may hold the key to the secrets of Traquair House, and to her heart. Then she travels through time to unveil the mystery of her family, only to find herself in grave danger.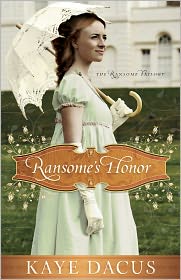 Ransome Trilogy Series #1
by Kaye Dacus
Author's Synopsis:
July 1814. The war with France has ended, and Captain William Ransome, known for never letting women aboard his ship, has returned to Portsmouth, England. Julia Witherington, considered an old-maid at 29, discovers that she must marry immediately to receive a large dowry. Julia knows that the only man she doesn't want to marry is William Ransome. And the only man her father will approve of is . . . William Ransome.
When the couple strikes a financial deal to feign marriage for one year, the adventure begins.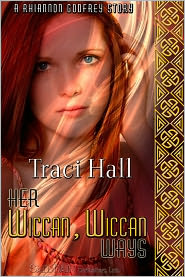 by Traci Hall
Author's Synopsis:
Rhiannon Godfrey is a psychic prodigy, but her parents don't see things her way. They think she needs a "normal" high school experienceshe wants to stay in trendy Vegas. In the small farming town of Crystal Lake, being Wiccan doesn't exactly help the Godfreys blend in. Beyond angry, Rhiannon neglects to inform her parents the farmhouse they just bought is haunted. Instead, she decides to use the resident ghost to prove that she belongs back in Dr. Richards's Institute of Parapsychology. Not that dispelling ghosts is her area of expertise, but really, how hard can it be? And then there's Jared Roberts. Totally hot. For a cowboy, that is. Only problem? He comes with an evil twin sister, the shallow and popular Janet. Janet's only goal is to make Rhee's life miserable. So when she and her friends decide it's time for a little payback, Rhee goes to her mother's book of spells. Janet needs to be taught a lesson, and what harm can come from a few words? Just one little spell.
by Laura Frantz
Author's Synopsis:
One woman searches for love—and herself—in a wild land.Lovely and high-spirited, Lael Click is the daughter of a celebrated frontiersman. Haunted by her father's ties to the Shawnee Indians and her family's past, Lael comes of age in the fragile Kentucky settlement her father founded. As she faces the many trials of life on the frontier, Lael draws strength from the rugged land. But the arrival of a handsome doctor threatens her view of her world, her God, and herself. Can the power of grace and redemption break through in this tumultuous place?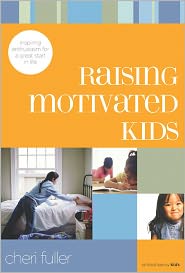 by Cheri Fuller
Author's Synopsis:
Parents can nurture their children to channel their natural energy and curiosity into positive, productive, and motivated learning experiences.
This book introduces principles to help moms and dads:
• Make education fun for children
• Foster a creative learning environment
• Model positive behaviors and habits
• Help kids avoid burnout and manage stress
by Stephanie Grace Whitson
Author's Synopsis:
Sixteen Civil War widows living in St. Louis respond to a series of meetings conducted by a land speculator who lures them west by promising "prime homesteads" in a "booming community." Unbeknownst to them, the speculator's true motive is to find an excuse to bring women to the fledging community of Plum Grove, Nebraska, in hopes they will accept marriage proposals shortly after their arrival!
Sparks fly when these unsuspecting widows meet the men who are waiting for them. These women are going to need all the courage and faith they can muster to survive these unwanted circumstances—especially when they begin to discover that none of them is exactly who she appears to be.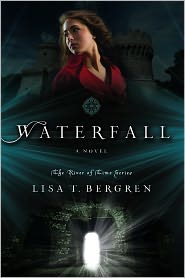 by Lisa T. Bergren
Author's Synopsis:
American teenager Gabi Betarrini accidently finds herself in sixteenth-century Italy . . . Knights. Swords. Horses. Armor. And Italian hotties.
Most American teens want an Italian vacation, but the Bentarrini sisters have spent every summer of their lives there with their archeologist parents. Stuck on yet another hot, dusty dig, they are bored out of their minds… until they place their hands atop handprints in an ancient tomb and find themselves in the sixteenth-century—and in the middle of a fierce battle between knights bent on killing one another.
(This book is in my top 5 of 2011!!)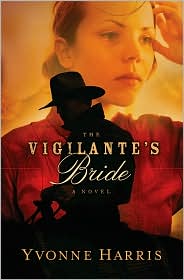 by Yvonne Harris
Author's Synopsis:
Montana Territory, 1884
Is Her Kidnapper the Only Man Who Can Keep Her Safe?
Robbing a stagecoach on Christmas Eve and abducting a woman passenger is the last thing Luke Sullivan expected to do. He just wanted to reclaim the money stolen from his pa, but instead ended up rescuing a feisty copper-haired woman who was on her way to marry Sullivan's dangerous enemy.
Emily McCarthy doesn't take kindly to her so-called rescue. Still, she's hoping Providence will turn her situation for good, especially when it seems Luke Sullivan may just be the man of her dreams. But Luke has crossed a vicious man, a powerful rancher not used to losing, and Emily is the prize he's unwilling to sacrifice.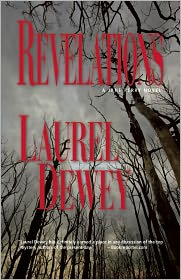 by Laurel Dewey
Author's Synopsis:
Jacob Van Gorden, the fifteen-year-old son of a prominent area businessman, has disappeared and all signs point to his abductor being Jordan Copeland, a man who committed a similar crime decades ago. Jane settles into this little community for much longer than she wants, living with a preacher and his family (including their eccentric teenage daughter who was Jacob's girlfriend). There are signs that Jacob is still alive, so the clock is ticking. And as Jane investigates Jordan Copeland, she begins to have doubts about his guilt and begins to uncover signs of devastating &ndash and even deadly &ndash secrets all around Midas.
Meanwhile, Jane must deal with two considerable secrets of her own. One hits her in the gut before she leaves Denver and the other creeps up on her from the most unlikely of places. And on top of this, Hank Ross, owner of a bar in Midas, has somehow managed to find a way beneath Jane's armor-plated defenses, forcing her to contend with feelings she hasn't allowed to surface for a very long time.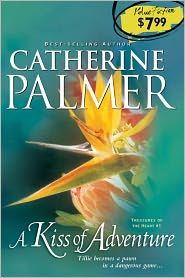 by Catherine Palmer
Author's Synopsis:
Desperate and on the run, Tillie Thornton finds herself in an uneasy partnership with Graeme McLeod, a daring adventurer who comes out of nowhere to thwart the plot of Tillie's would-be kidnappers. Now these two must join forces against their common enemies, as well as the challenges of nature, as they embark on a quest that could bring them the answers they seek—or cost them everything.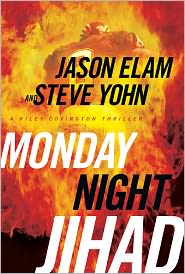 by Jason Elam , Steve Yohn
Author's Synopsis:
After a tour of duty in Afghanistan, Riley Covington is living his dream as a professional linebacker when he comes face-to-face with a radical terrorist group on his own home turf. Drawn into the nightmare around him, Riley returns to his former life as a member of a special ops team that crosses oceans in an attempt to stop the escalating attacks. But time is running out, and it soon becomes apparent that the terrorists are on the verge of achieving their goal: to strike at the very heart of America.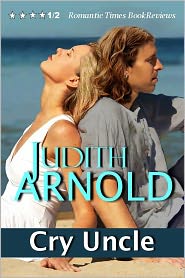 by Judith Arnold
Author's Synopsis:
"When a classy architect joins in a marriage of convenience with a slightly scruffy bartender to hide from a hit man out to kill her, frustration runs high, making both want to CRY UNCLE and get on with the loving. Judith Arnold is a perennial favorite whose keen wit and way with mystery always hits the mark. ****½"—RT Book Reviews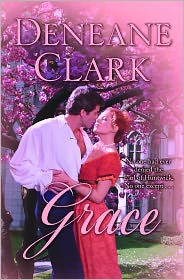 by Deneane Clark
Author's Synopsis:
SHE WOULDN'T.
The institution of marriage held no attraction for Grace Ackerly. The world, she had noticed, expected nothing more from women than that they be submissive, demure brood mares, allowed absolutely no rights or even opinions of their own. And yet, at twenty, an age at which most of Society considered her well past her prime, she need only wait a little longer to be safe. No—she was fairly comfortable declaring—she would never marry, no matter the temptation set before her.
HE WOULD.
With a flashing green gaze potently combining warmth, humor and seductive promise, Trevor Christian Caldwell was resisted by few women. When one factored in the earldom of Huntwick and his legendary charm, his conquests became all the more indubitable. But never had there been a woman he truly respected. Not until now. Here, in Pelthamshire, a spirited redhead forced a decision he had never before considered: He would marry Grace Ackerly, no matter what protestations, no matter what travails.
It was yet to be seen who would prevail. And how.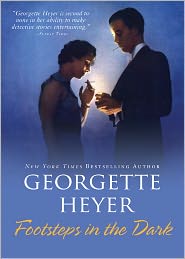 Footsteps in the Dark
by Georgette Heyer

Author's Synopsis:
What begins as an adventure soon becomes a nightmare . . .

Locals claim it is haunted and refuse to put a single toe past the front door, but to siblings Peter, Celia, and Margaret, the Priory is nothing more than a rundown estate inherited from their late uncle-and the perfect setting for a much-needed holiday. But when a murder victim is discovered in the drafty Priory halls, the once unconcerned trio begins to fear that the ghostly rumors are true and they are not alone after all! With a killer on the loose, will they find themselves the next victims of a supernatural predator, or will they uncover a far more corporeal culprit?
For up to date great freebies visit Books on the Knob!
© Hott Books | Google+