Abby's life is a mess – at least her mother and sister-in-laws think so. She's flunked out of law school (her brothers are both surgeons), her fiance left her (he's a high powered attorney), and she's now the proud owner of a flower shop with two employees to boot, Lottie & Grace(No hope of getting into the country club with that mortgage!).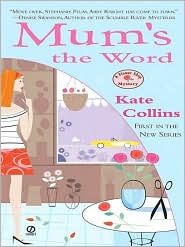 To top it off, Abby is a meddler. Well, maybe not in the strictest definition of the word. But she is curious and she is investigating several 'matters'. Though, in her defense – she was asked to help.
A kid was killed in an apartment building near her shop and just after a man came running from that direction, jumped in his vehicle, slammed into her 'Vette, and just took off. Abby will find out who it was!
Lottie's niece is being abused by her husband and asks for help. So, Abby does what anyone would do. She helps Pearl to an attorney and then investigates Pearl's husband to find out what he's hiding.
Now, it seems as if someone my be trying to kill Abby – or ticket her to death. Which person is after her? Or could this all be related?
I love mysteries – but not this one. I can honestly say that it reminded me of the Nancy Drew series. I'd have absolutely loved this at 12-14 but now it was just a time waster. I will eventually try another and see if maybe it was just a funk I was in but, unless you enjoy the wholesome Nancy Drew mysteries, I'd skip these.
Rating: C
© Hott Books | Google+