Pieces of April is a story about three women who make choices. Choices others just don't understand.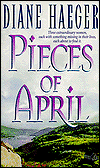 Isabelle has lived a wonderful life as a senators wife. She has three grown sons – one now in the senate – and is finally ready to live the life she has longed for. While just a teenager she fell for the housekeeper's son and got pregnant. When her father found out he whisked her away and hid her in Scotland until she had the baby. Then before even cleaning the baby off he forcibly took it from her, wrapped it in a blanket and spirited it away. The wretch then married Isabelle off within six weeks. Isabelle must find her firstborn – the baby she never even told her husband of.


Glenna Rose hides in a remote town in Scotland. She married a man old enough to be her father to rescue her from the parents she detested. Her father beat her religiously – while reading Proverbs and telling her she must repent. She still is unable to forgive them – even though they've been dead for over a year. She never attended the funeral or closed up the house. Glenna loves her husband but more from duty than from passion. She spends her life taking care of her husband and unruly daughter and doctoring the townspeople.


Kate refuses to live her life as her mother, Glenna, has. She will not hide away in the middle of nowhere avoiding life! She will not spend her whole life working and taking care of others! Kate wants to enjoy life. She will not make choices based on duties and she will not hide from her past! No matter what it takes…


This is one of the books I've chosen as a prize in my 100 follower give-away and I thought that instead of just the BN.com review that my followers should see a real review. I've read this book before but for some reason I just couldn't remember it. I generally do not enjoy emotional books about people and their struggles – I prefer books about an alternate wonderful universe where everything works out and is quite a bit less stressful.
This book is stressful. It is emotional. It is about the tangled mess our lives become as each of us go through life making the choices we do – the difficult ones that mean we stay and fight through the mess instead of walking away and letting others clean it up. It's a reminder that when we look at the surface of what others have done and said it frequently looks like they have made really bad choices – but when we know it all the choices really do make the most sense. It's also a reminder to just look to tomorrow – it will get better…
Enjoy!
| | |
| --- | --- |
| Rating: | B+ |
| Buy or Borrow: | Borrow |
© Hott Books | Google+