Teaser Tuesdays is a weekly bookish meme, hosted by MizB of Should Be Reading. Anyone can play along! Just do the following:

— Grab your current read
— Open to a random page
— Share two (2) "teaser" sentences from somewhere on that page
BE CAREFUL NOT TO INCLUDE SPOILERS! (make sure that what you share doesn't give too much away! You don't want to ruin the book for others!)
Share the title & author, too, so that other TT participants can add the book to their TBR Lists if they like your teasers!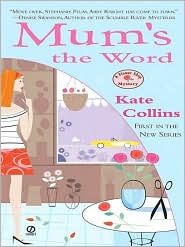 My teaser is from 'Mum's the Word' by Kate Collins.
I sat for a moment to let my heart resume it's normal pace, ten carefully pulled onto the road and headed into town, assuring myself that it had been nothing more than a freak occurrence.
To think otherwise was to believe someone was out to hurt me.
To join in on Teaser Tuesday you can either leave your teaser below in the comments or leave the teaser on your site & link to it in the comments.
© Hott Books | Google+