On a dark rainy night on her way to help one of God's sick children. Grace is kidnapped… to right the wrongs of her father.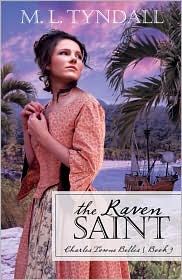 Grace knows that God is there for her. She just has to trust him and wait for his time to be right. She knows that she's done no wrong that the Lord hasn't forgiven. So why is it that she no longer hears him like she did before? Could it be that the mercenary who is selling her for her father's crimes is right? Is she a hypocrite?
Rafe hasn't had an easy life but in the last six years he's righted a lot of wrongs. He may be a mercenary or a pirate but he uses all of his profits to save the children in the community he calls home. Firmly believing that the good he does more than makes up for the ill gotten gains. Well, at least until the pious cabbage starts casting a new light on how he views himself.
We all know to watch out for wolves in sheep's clothing but when did the sheep start dressing as wolves?
'The Raven Saint' was truly an excellent example of where each of us should be. It very elegantly points to how each of us is duplicitous and pious yet remains a terrific novel. It's not preachy or 'in-your-face' just a gentle reminder to stop looking at others and start honestly focusing on where we need to be. 


What I liked: Actually, I enjoyed the writing. Grace's character was likable and cute – if a bit naive. 


What I didn't like: French. There were so many French phrases that it was a distraction. Yes, I could generally figure out what they were saying if I was watching but it wasn't easy for me and I eventually just started skimming instead of enjoying.


All in all. It was a good book and I'd say if you have an eye for languages or enjoy French boaters grab it today!
| | |
| --- | --- |
| Rating: | B+ |
| Buy or Borrow: | Borrow |
** Many of the books I review are Advance Review Copies. These books are loaned to me for my review. I am in no way compensated for my time nor am I asked to give anything but my honest review.
© Hott Books | Google+