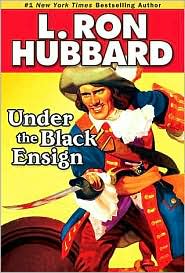 BN.com Synopsis:
Golden Age story. Sea Adventure. Originally published in the 1935 August issue of Five Novels Monthly.
Publishers Weekly
Errol Flynn would feel quite at home in Hubbard's ripping yarn of Caribbean piracy in the year 1680, first published in 1935. Press-ganged into the Royal Navy, Tom Bristol faces 100 lashes just as buccaneers attack the British man-o'-war on which he reluctantly serves. Tom soon realizes the pirate life is for him, a life replete with swordplay, maroonings and naval battles with ships lost in the roiling fog of cannon smoke. Supplementing the illustrated text are an extensive glossary of nautical and period terms, an essay entitled "L. Ron Hubbard and American Pulp Fiction," and a foreword by Kevin J. Anderson on the golden age of pulp fiction. The man who would go on to found Scientology never achieves the visceral intensity of such fellow pulp writers as Robert E. Howard, creator of Conan, but he conducts his minisaga in just the fashion readers of the era expected. (Sept.)
Copyright © Reed Business Information, a division of Reed Elsevier Inc. All rights reserved.
Under the Black Ensign, Stories from the Golden Age Series, L. Ron Hubbard, (9781592126316) NOOKbook (eBook) – Barnes & Noble
© Hott Books | Google+