This week at BN.com:
I Love You This Much:
A Song of God's Love
by Lynn Hodges, Sue Buchanan

Share God's love for his children through this moving story about the love between a parent and child. Filled with beautiful illustrations that reflect the soothing melody and gentle words, you and your child will treasure the precious moments shared together with this wonderful story, I Love You This Much.
Vanished
Faithgirlz! / Boarding School Mysteries
by Kristi Holl

Too much to handle?
Twelve-year-old Jeri McKane knew that attending boarding school hundreds of miles from home would be hard, but she never imagined anything like this. Her mom——too busy to even answer Jeri's phone calls and emails——sends the devastating word that she can't make it to Parents' Weekend. Then the school bus carrying Jeri's roommate Rosa mysteriously disappears. A natural sleuth, Jeri knows there are leads to be followed and follows her instincts to discover new dimensions of faith and courage. Can Jeri continue to trust God even in the most confusing of times?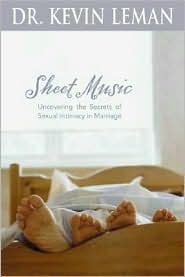 Sheet Music:
Uncovering the Secrets of Sexual Intimacy in Marriage
by Kevin Leman

For married couples and those engaged to be married, Sheet Music is a practical guide to sex according to God's plan. In his characteristic style, Kevin Leman addresses a wide spectrum of people, from those with no sexual experiences to those with past sexual problems or even abuse.
The Sculptor
by Gregory Funaro

Killing Is An Art
In life, they were flawed. In death, they are perfect works of art–killed, preserved, and carefully molded into replicas of Michelangelo's most celebrated creations. Only The Sculptor can bring forth their true beauty and teach the world to appreciate his gift.
He Is The Master
FBI Special Agent Sam Markham has a reputation for tracking serial killers, but this artful adversary is meticulous, disciplined, and more ruthless than any he's encountered. The only clue is a note dedicating the latest "statue" to Cathy Hildebrant, an art historian who shares Sam's fear that the killing has just begun.
And She Is The Perfect Subject
In a quiet Rhode Island town, The Sculptor shapes his latest macabre creation, waiting for Cathy to draw nearer so that his message can be understood at last. And the only way to save her is for Sam to unlock a psychopath's twisted mind before his final, terrifying masterpiece is revealed.
Love, Unexpectedly
by Susan Fox

Take Me There
At thirty-one, Kat Fallon's luck with men shows no sign of improving. But when she asks her best friend Nav Bharani to be her date at her younger sister's wedding in Vancouver, she has no idea that she's about to get on board the most surprising ride of her life…
Nav has been secretly in love with Kat ever since he moved in next door. When she reveals that she loves taking train rides, especially the meeting-strangers part, Nav devises a plan to win Kat's heart. On every leg of her trip to Vancouver, he shows up disguised as a different sexy stranger. Stunned by Nav's daring, Kat finds herself succumbing to his inventive transformations. But what starts out as an innocent adventure soon becomes much more for Kat as she is forced to choose between her long-held fantasies of the perfect mate-and the prospect of something far more real…
Dead Men Kill
by L. Ron Hubbard

When several of the city's most respected citizens are inexplicably killed by what appear to be zombies, all Detective Terry Lane has to go on is a blue-grey glove, a Haitian pharmacy bill for some very unusual drugs and a death threat from a mysterious stranger.
Matters are soon complicated when a beautiful nightclub singer shows up who claims to have information that could solve the case, but whose motives are plainly suspect. Against his better judgement, Terry investigates her lead only to find himself sealed in a coffin en route to the next zombie murder—his own.
Murder a la Mode
Savannah Reid Series #10
by G.A. McKevett

Voluptuous P.I. Savannah Reid's culinary cravings come second only to her appetite for adventure. Of course, every girl needs a little down time, and Savannah adores curling up with a box of chocolates, a steaming Irish coffee, and an even steamier romance novel–preferably one with sexy Lance Roman on the cover. But when she meets her dream hunk in person, things take a decidedly nightmarish turn. . .
As a special birthday treat, Savannah's friends have arranged for her to compete for Lance's affections on a reality TV show called Man of My Dreams. She and four other women will be living in a medieval "castle" with Lance, trying to win his heart.
Unfortunately, the antics take a sinister turn when one of the show's producers, Tess Jarvis, turns up dead. It appears she was felled by a carton of Killer Fudge ice cream, but Savannah's convinced there's more to the story.
Turns out she's right. It seems no one liked Tess. . .not her unhappy husband, or the scheming contestants, or all the disgruntled employees she so heinously wronged. This show is quickly turning into the worst kind of soap opera–with some footage that'll never make it on the air. . .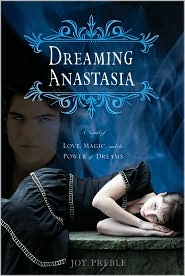 Dreaming Anastasia
A Novel of Love, Magic, and the Power of Dreams
by Joy Preble

In this debut novel, Anastasia Romanov, believed to have died in a bloody massacre with the rest of the Russian royal family, is alive, but held captive by Baba Yaga, an evil witch from Russian folklore. In present-day Chicago, 16-year-old Anne Michaelson has recurring dreams of the death of Anastasia's family and Anastasia's imprisonment. Handsome and mysterious Ethan Kozninsky has waited nearly a century to find Anne ("Now it's occurring to me that smashing her to the floor in between classes in order to inform her that she is the girl who alone has the power to save the Grand Duchess Anastasia… is just possibly not the best plan I've ever had," he thinks). This novel of star-crossed love rotates between the perspectives of Anne, Anastasia and Ethan. While Preble's overall concept is interesting, the prose can be rambling, and the alternating points of view make the story feel choppy and, at times, confusing. The dialogue and romantic element come off as clichéd and fall short of Preble's ambitious idea. Ages 12–up.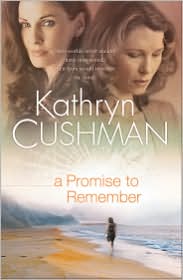 Promise to Remember
by Kathryn Cushman

The plot is lively and complex. Just when I thought things couldn't get worse they did, and this problem-heaped-upon-problem style made for a captivating and fast-paced read. All the story's loose ends are finally pulled snug, but not until the last pages….All in all, A Promise to Remember is an impressive debut for Cushman. After this strong introduction, fans of contemporary Christian fiction will no doubt await her next book with anticipation.
Candle in the Darkness
Refiner's Fire Series
by Lynn Austin

Book 1 in the Refiner's Fire series. The daughter of a wealthy slave-holding family from Richmond, Virginia, Caroline Fletcher is raised in a culture that believes slavery is God-ordained and biblically acceptable. But upon awakening to the cruelty and injustice it encompasses, Caroline's eyes are opened for the first time to the men and women who have cared tirelessly for her. Her journey of maturity and faith will draw her into the abolitionist movement, where she is confronted with the risks and sacrifices her beliefs entail.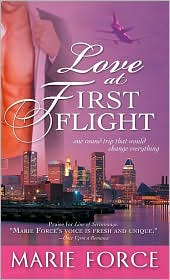 Love at First Flight
by Marie Force

GR Synopsis: What if the guy in the airplane seat next to you turned out to be the love of your life?

Juliana, happy in her career as a hair stylist, is on her way to visit her boyfriend of ten years who's working out of state. She's wondering why they're not engaged yet. Michael is going to his fiance's parents' home for an engagement party he doesn't want. A states' prosecutor, he's about to try the biggest case of his career, he hates the distraction, and he's having doubts about the relationship.

They sit together on the plane, and discover they're on the same flight coming back. When the weekend is a disaster for each of them, they bond on the plane ride home. But life is full of complications, including their exes, who don't want to let go, and when Michael's trial turns dangerous, the two must confront what they value most in life…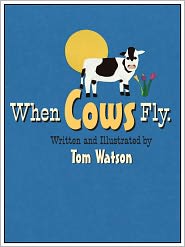 When Cows Fly
by Tom Watson

Synopsis: A fun story written in a rhyming, limerick style, "When Cows Fly" is aimed at the younger set. Illustrated with finely cut paper illustrations, the story revolves around a boy in the woods, his pet cows and a massive pile of garbage that is accumulating nearby. Jacob takes matters into his own hands. He attaches wings to his cows and they go to work. What happens next is both funny and (a little bit … ) gross. You can probably guess.
Talk of the Town
by Lisa Wingate

In this compelling tale by Lisa Wingate-award winning author of the national best-seller Lone Star Café-the associate producer of TV's hottest show fears Amber Amberson's tiny Texas hometown already knows its Amber is an American Megastar finalist. But after several hilarious culture clashes, the Hollywood pro enlists the help of the quirky townsfolk when the sweet and naïve Amber goes missing. "… entertaining story of life in a small town with Texas-sized charm."-Publishers Weekly
Listen
by Rene Gutteridge

Nothing ever happens in the small town of Marlo . . . until the residents begin seeing their private conversations posted online for everyone to read. Then it's neighbor against neighbor, friend against friend, as paranoia and violence escalate. The police scramble to identify the person responsible for the posts and pull the plug on the Website before it destroys the town. But what responsibility do the people of the town have for the words they say when they think no one is listening? Life and death are in the power of the tongue.
© Hott Books | Google+