This week at BN.com:
(All the synopsis are from BN.com unless noted.)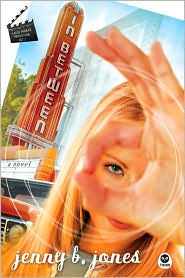 In Between
by Jenny B. Jones

Katie Parker knows life isn't fair. After all, when your mom's in jail and your dad's a no-show, you figure things just aren't going your way. But hey, she can deal. Then she finds out she's being sent to live with a foster family—in In Between, Texas. What kind of town has a name like In Between? And what kind of family wants a kid like her? One thing's for certain: None of this will be good. Sure enough—thanks to some new "friends" and her non-Mom's crazed mother, Mad Maxine—life sails right past bad to stinking. Then again, she's just a temporary kid, they're just temporary parents, and she definitely doesn't have any ideas about making any of this permanent. God, on the other hand, may have other plans altogether.
I know, I know, this isn't much. But keep in mind that there are plenty of the books from previous weeks are still free so check out the previous Free Friday posts & see what you've missed.
© Hott Books | Google+