Hott Synopsis
Mattie Lowe can't believe that she's the ugly stepsiter – but honestly, who could possibly compete with Ella? Ella's an orphan. Ella's gorgeous. Ella gets great grades. Ella's always chipper. Ella volunteers for everything. Ella, Ella, Ella.
Yeah, Mattie knows she'll never measure up but did Ella have to take the one thing that mattered most? Mattie's prince charming, Jake Kingston.
Except, Ella's not madly in love and being the true perfect sister that she is, dumps Jake as soon as she realizes that Mattie's in love.
And maybe, just maybe, Jake's not all he seems to be either.
Hott Review
What I liked: This book was really a lot of fun I loved the twist on the Cinderella story. Ms Wilson brought back the horrors of high school in a snarky and enjoyable way that so few authors can.
It's perfectly acceptable for middle and high-school readers.
What I didn't like: It was a bit gooshy at the end & brought tears to my eyes.
More…
| | |
| --- | --- |
| Author: | Sariah Wilson |
| Source: | I am a Reader, Not a Writer |
| Grade: | A |
| Ages: | 12+ |
| Steam: | Y/A — just a couple of naughty words |
Tour Giveaway
$25 Amazon Gift Card or Paypal Cash
Ends 3/10/13
Open only to those who can legally enter, receive and use an Amazon.com Gift Code or Paypal Cash.
Winning Entry will be verified prior to prize being awarded. No purchase necessary. You must be 18
or older to enter or have your parent enter for you. The winner will be chosen by rafflecopter and
announced here as well as emailed and will have 48 hours to respond or a new winner will be chosen.
This giveaway is in no way associated with Facebook, Twitter, Rafflecopter or any other entity unless
otherwise specified. The number of eligible entries received determines the odds of winning. Giveaway
was organized by Kathy from I Am A Reader, Not A Writer http://www.iamareader.com/ and sponsored by the
author. VOID WHERE PROHIBITED BY LAW.
Author Bio:
Sariah Wilson has never jumped out of an airplane, never climbed Mt. Everest, and is not a former CIA operative. She has, however, been madly, passionately in love with her soulmate and is a fervent believer in happily ever afters—which is why she writes romance. The Ugly Stepsister Strikes Back is her fourth happily ever after novel. She grew up in southern California, graduated from Brigham Young University (go Cougars!) with a semi-useless degree in history, and is the oldest of nine (yes, nine) children. She currently lives with the aforementioned soulmate and their four children in Utah, along with three tiger barb fish, a cat named Tiger, and a recently departed hamster that is buried in the backyard (and has nothing at all to do with tigers).
Websites & Links: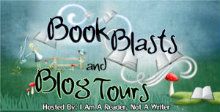 Thank you to
I am a Reader, Not a Writer
and to
Sariah Wilson
for generously offering this book for review.
As always, I really enjoyed being a part of your tour.
Do you like my reviews? If you do, please, stop by and rate them at one of the bookstores or review sites.
** Many of the books I review are Advance Review Copies. These books are loaned to me for my review. I am in no way compensated for my time nor am I asked to give anything but my honest review. If you have further questions, please, review my FTC Disclaimer on my homepage.