Synopsis:
Bound by friendship, two women find themselves at common crossroads, struggling with choices both past and present, career and home.
Simone Sheridan and Claire Atkins have been friends since college. Upon graduation, they took off in different directions, forging separate paths through motherhood. Neither planned to look back on the road they traveled with regret—yet that's exactly what's at stake when their daughters issue opposing proclamations with regard to college.
Both mothers battle the news, but soon come to learn they must change course, or lose the sacred relationship between mother and daughter. But change is not an easy task when Simone and Claire unexpectedly find themselves staring down their choices, confronted by the same question: Where did I go wrong?
Hott Review:
This was a hard book for me to read. It's one of my greatest fears and it wasn't easy to see two mothers who raised their daughters in completely opposite ways grappling with the fear and loss of their daughters. To make it to mere weeks before your child's high school graduation and learn that you don't really know her at all. I must say, kudos, Ms. Venetta – unfortunately for me – this book was like living through it.
More…
| | |
| --- | --- |
| Author: | Dianne Venetta |
| Source: | Dianne Venetta |
| Grade: | B |
Author Bio: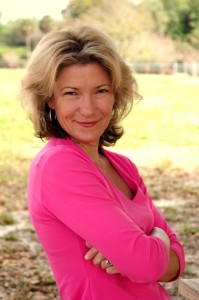 Dianne Venetta lives in Central Florida with her husband and two children–and her part-time Yellow Lab (Cody!). An avid gardener, she spends her spare time growing organic vegetables. Surprised by the amazing discoveries she finds there every day, she wondered, "Who knew there were so many similarities between men and plants?"
What began as a brief hiatus from writing has blossomed into an ever-expanding home garden and blog at BloominThyme.com — stop by and share some tips!
When she's not knee-deep in dirt or romance, Dianne contributes garden advice (challenged!) for various websites (a crazy existence to be sure). But at the end of the day, if she can inspire someone to stop and smell the roses–or rosemary!–kiss their child and spouse good-night, be kind to a neighbor and Mother Earth, then she's done all right.
Websites & Links:
Do you like my reviews? If you do, please, stop by and rate them at one of the bookstores or review sites.
** Many of the books I review are Advance Review Copies. These books are loaned to me for my review. I am in no way compensated for my time nor am I asked to give anything but my honest review. If you have further questions, please, review my FTC Disclaimer on my homepage.