The one who needs rescuing isn't always the one in the tower.
Rapunzel can throw a knife better than any man around. And her skills as an artist rival those of any artist she's met. But for a woman in medieval times, the one skill she most desires is the hardest one to obtain: the ability to read.
After yet another young man asks for Rapunzel's hand in marriage, Mother decides they need to move once again, but this time to a larger city. Rapunzel's heart soars—surely there she can fulfill her dream. But Mother won't let her close to a man. She claims that no man can be trusted.
After being rescued by a knight on the road to the city, and in turn rescuing him farther down the road, Rapunzel's opportunity arrives at last. This knight, Sir Gerek, agrees to educate Rapunzel in order to pay back his debt. She just has to put up with his arrogant nature and single-minded focus on riches and prestige.
But this Rapunzel story is unlike any other and the mystery that she uncovers will change everything—except her happily ever after.
* from Goodreads
Hott Review:
I think The Golden Braid is my favorite book from The Hagenheim Fairy Tale Romance Series so far.
Not only did I fall in love with this version of Rapunzel but the fact that this happens at same time as The Princess Spy and I didn't notice any discrepancies (only reading them a couple weeks apart) just made me fall in love with Melanie Dickerson's writing abilities even more.
I absolutely couldn't put The Golden Braid down. I loved the characters and they seemed very human to me. The entire book was a realistic fairy tale. I can't wait for more!
More…
| | |
| --- | --- |
| Author: | Melanie Dickerson |
| Source: | I purchased this item on December 23, 2015 when it was on sale for $2 |
| Publisher & Date: | vember 17th 2015 by Thomas Nelson (first published November 1st 2015) |
| Genre: | YA Christian Historical Romance |
| ISBN: | 0718026268 (ISBN13: 9780718026264) |
| Pages: | 320 |
| Grade: | A |
| Ages: | 16+ |
| Steam: | YA |
| Setting: | Hagenheim, Lower Saxony, 1413 (Germany) |
| Series: | Fairy Tale Romance Series Book 6 | Hagenheim #6 |
Author Bio: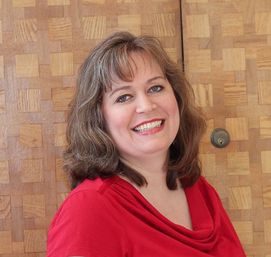 Melanie Dickerson is a two-time Christy Award finalist, two-time Maggie Award winner, Carol Award winner, two-time winner of the Christian Retailing's Best award, and her book, The Healer's Apprentice, won the National Readers Choice Award for Best First Book. She is a member of American Christian Fiction Writers (ACFW) and Romance Writers of America (RWA). Melanie earned a bachelors degree in special education of the hearing impaired from The University of Alabama and has worked as a teacher in Georgia, Tennessee, and Ukraine. She lives with her husband and two children in Huntsville, Alabama.
Websites & Links:
* info & image from melaniedickerson.com
Do you like my reviews? If you do, please, stop by and rate them at one of the bookstores or review sites.
** Many of the books I review are Advance Review Copies. These books are loaned to me for my review. I am in no way compensated for my time nor am I asked to give anything but my honest review. If you have further questions, please, review my FTC Disclaimer on my homepage.
© Hott Books | Google+